I've been talking about upgrading for quite some time and now the majority is done. I have to credit the upgrade to my employer however, this guy purchased the new parts for me as a Christmas bonus this year. I couldnt ask to work for a better man.
so with that said, heres the current specs
Gigabyte M57SLI-S4 motherboard
AMD X2 6000 3GHz 2mb L2
4 GB Mushkin DDR2 800Mhz 2-2GB sticks
Im using my existing 7950GT vid card and X-Fi sound. Only 1 card as of now, looking at series 8 cards to run in sli soon.
Tested on 32 bit XP, will be doing a 64 bit install over the weekend.
Heres the results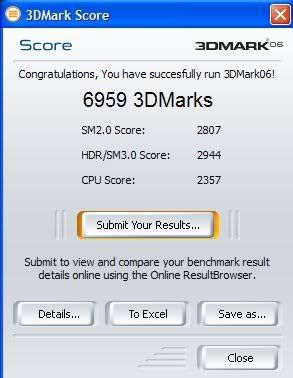 My previous system averaged 4200-4300 so this is quite a substantial gain considering im using the same vid card. Im looking forward to moving into SLI probably after the new year.
Well venney, theres the bar. its up to you to show me if Intel and ATI can raise it